Basic Facts About Isparta
Isparta is a city in western Turkey and the provincial capital of Isparta Province. The city's population is 219,904 (as of 2012) and elevation from sea level is 1035 m. Another name of the city is "City of Roses". Isparta's endemic rose name is Rosa Damacen. Isparta has good connections to other parts of Turkey with both railways, airport and by road. Antalya lies 130 km to the south and Eskişehir 350 km to the north.
Süleyman Demirel University has introduced thousands of youngs from various backgrounds to the city's mostly conservative fabric in the recent years.
There are several important mosques in Isparta, including the pre-Ottoman Hizir Bey Mosque (c. 1325), the Kutlubey or Ulu (Grand) Mosque (1429, with major restorations in the 19th century) and Haci Abdi Mosque (1569).
There are several remains of Greek Orthodox churches from the Byzantine and Ottoman periods (14th-19th century). The Byzantine fortress is mostly in ruins.
Isparta was the center of Diocese (subsequently Greek Archbishopric) of Psidia after losing Ağlasun's former importance.
Climate
Isparta has a continental climate with cold, snowy winters and hot, dry summers.

Isparta has lots of natural and historical places and also tourism activities.
Natural Places
Eğirdir - Isparta lays on lakes area and Eğirdir is the most important one of them.  Eğirdir lies between Lake Eğirdir and the Mount Sivri, and contains a castle said to have been built by Croesus, king of Lydia, although additions were built by the Romans, Byzantines, and Seljuks.
Yeşil Ada (Turkish for "green island") is a small island connected to Eğirdir by a short causeway. Restaurants, hotels, pensions (pansyons or hostels), and a few private residences fill the island. Known for its past as a Greek village, Yeşıl Ada still has quite a few stone homes remaining from the Greek era.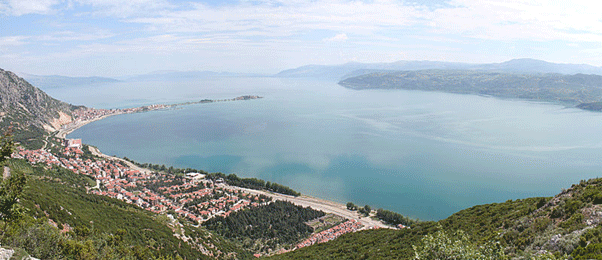 Kovada – National Park is a rich working and recreation place for nature lovers. Many kinds of trees from redpine to juniper; from wild olive to kocayemiş (arbutus unedo) to menengiç (Terebinthina Chia), pırnal meşesi (quercus ilex) constitute the basis of the natural flora. Herbs like wild rose, daphne, blackberry, and boyacı sumağı (rhus cotnus) enrich this structure. The diversity of flora can be observed in wild life, however many animal species have been endangered due to hunting. Yet, you shouldn't be surprised to see martens, badgers, wild boars, foxes, squirrels or rabbits.
Kovada Lake is an important point for bird watchers as well. Its waters are valuable as it is a watering hole for migratory birds. Wild geese, rudy shelducks, herons, wild ducks, woodcocks come to the lake. If you happen to see bouncing birdson the rocks, know that they are partridges. As for the inhabitants in the water, they are carps, sudak (Lucioperca lucioperca) ,pool fish, eğrez (vimba vimba), velvet fish, eels and fresh water lobsters.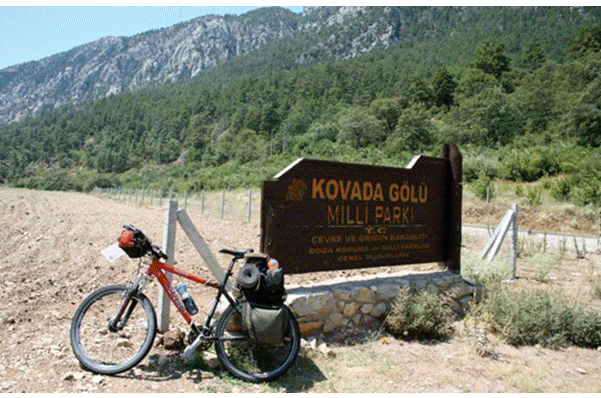 Gölcük (a maar lake only 8 km away from Isparta city center and 1300 m. altitude ), Karagöl (Black lake), Beyşehir lakes are oter important lakes in Isparta.
There are lots of plateau in Isparta. Sütçüler Söğüt, Aksu Sorgun, Eğirdir Beşkuyular and Yenişarbademli Melikler Plateaus are the important ones.
Tourism Sportive Activies
There are lots of important places that shown below for winter sports,scuba diving, orienteering, abseiling, trekking, photo safari, paragliding, canoeing, bird watch keeping, endemic flower watch keeping and etc . You have a chance to do whatever you want because Suleyman Demirel University has all the clubs.
Mountain Tourism - Most important one is Davraz mount. Davraz is a mountain and a winter sports and ski resort in the Taurus Mountains. It is only 25 km away from the center of Isparta and also Eğridir. Served by good road connections. The tallest peak (Büyük Davraz) at the resort is 2,637 m (8,652 ft) with the highest skiing height being at 2,250 m (7,380 ft). There are black, red, blue and yellow runs, so there are facilities (also Suleyman Demirel University has an Otel in Davraz - see below photos) for all levels of skiers. Access to the slopes is via drag and chair lifts - depending on the particular run.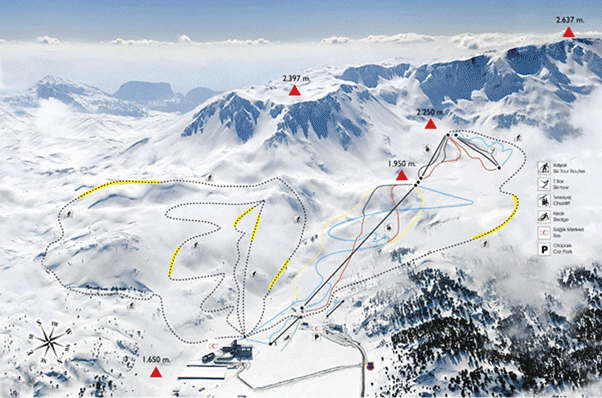 Below you can see Isparta's mountains and their heights.
Davraz Mountain - 2.635 m
Barla Mountain - 2.798 m
Dedegül Dağı - 2.998 m
Akdağ - 2.420 m
Sarp Mountain - 2.548 m
Bozburun Mountain - 2.109 m
Eğridir Sivrisi - 1.749 m
There are lots of places for single and tandem flights of Paragliding. An Aviation club was founded in Suleyman Demirel University to develop of aviation sports in Isparta. Courses can be taken by the qualified personnel. Below you see the places which you can fly.
Senirce; 120 m. height, Bayat; 90 m height, Eğirdir; 250 – 350 – 550 and 650 m heights, Sakal Hill; 675 m height, Kızıldağ; 750 m height and Davraz; 1600 m height.
Cave Tourism – there are 28 cavesin Isparta. Zindan cave is the most important one of them. Also Pinarözü cave is the longest cave in Turkey with 12 km long.
Water Sports Tourism – At Eğridir lake; paragliding, jetski, water cycle, water ski, banana, beach camping and etc. At Kovada Lake National Park; amateur fishing, fish watch keeping, camping, trekking and etc.  
Historical Places
Ancient Cities - There are lots of ancient city in Isparta. This is a perfect opportuinity for archeology students and professionals. An archeology club was founden in Suleyman Demirel University which serves chances to work on a study. Below some of the ancient cities shown.  
Antiocheia, Pisidya (Greek: Ἀντιόχεια τῆς Πισιδίας) Ancient City - Yalvaç –  is a city in the Turkish Lakes Region, which is at the crossroads of the Mediterranean, Aegean and Central Anatolian regions, and formerly on the border of Pisidia and Phrygia, hence also known as Antiochia in Phrygia. The site lies approximately 1 km northeast of Yalvaç, the modern town of Isparta Province. The city is on a hill with its highest point of 1236 m in the north.
Pisidia was important in the early spread of Christianity. St. Paul visited Antioch on each of his missionary journeys, helping to make it a center of the new faith in Anatolia. After the Emperor Constantine's legalization of Christianity in 311 it played an important role as a metropolitan city. Afterwards it became the capital city of the Christian Pisidian Province, founded in the 4th century; Parlais became its titular see. Most Pisidian cities were heavily fortified at that time due to civil wars and foreign invasions.
Adada Ancient City  – Sütçüler -  360° Sightseeing , Seleukeia Sidera Ancient City - Atabey, Mallos Ancient City – Eğirdir, Timbriada Ancient City - Aksu, Tynada Ancient City – Aksu, Parlais Ancient City – Eğirdir, Prostanna Ancient City – Eğirdir, Conana Ancient City – Gönen, Anaboura Ancient City – Şarkikaraağaç, Tymandos Ancient City – Senirkent
Castles – Eğirdir is a castle said to have been built by Croesus, king of Lydia, although additions were built by the Romans, Byzantines, and Seljuks. Uluborlu Castle is a castle stands on a big rock and can be seen from everywhere.
Madrasas and Caravanserai
Here are some of them and location; Ertokuş Madrasas – Atabey, Dündarbey Madrasas – Eğirdir, Ertokuş Caravanserai – Gelendost...
Mosques - Isparta is very rich about mosques. All of them is unique. Stone and wood works are perfect. Some of the mosques and 360° interiors;
Turkish Bath – Hammam
In city center there are two of them still in service; Dalboyunoğlu and Karabey.
Museums
One is in city center "Isparta Museum", other is in Yalvaç district "Yalvaç Museum" and other one is in Uluborlu district "Uluborlu Museum".
Canyons
Yazılı Canyon – Sütçüler – Why yazılı (written)? Because there is Epictetus' poem about liberal human on a stone written by greek letters.  St. Paul walked through this canyon while his journey from Perga to Pisidia Antiocheia. Becuse of this Yazılı Canyon is considered one of the holiest places for Christians and religious tourism.
Köprüçay Canyon – Aksu.
Food
Kebab, stuffed of carp, gullac of Yalvaç , pumpkin dessert, trout in Yazili Canyon, sea bass and carp and trout in Egirdir… Better come to taste them all.
Costs
Isparta is a cheap city in order to live well with less money when compared to the neighboring cities such as Antalya. There is a big Mall (Iyas Park) and also will be one too that is nearly finished. For social networks Isparta has an active life. Beside this you feel safe in Isparta. There is no traffic jam.   
After seeing all these fascinating beauties you should better come to be our guest in Isparta.